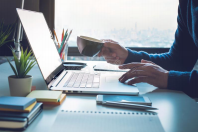 Guest article from: Remote Therapist Associate Maggie Lavey founder of  Counseling Anywhere 
We are faced with new and changing times throughout the world today. Changes not only  related to the current state of affairs due to COVID-19 but also in part due to advances in  technology. During these changing times, hopefully the majority will embrace the innovative ventures that coincide. For the field of therapy and mental health, a developing way of providing  services has vastly emerged and been incorporated. Although teletherapy services previously  existed, the current pandemic has led to a surge in these services and may become the new  "norm" in mental health care. With change comes excitement and resistance alike. The aim here  is to highlight the vast benefits of teletherapy services in the field of psychotherapy and mental  health care.  
What is Teletherapy? 
Teletherapy is the same as traditional therapy except the setting is your home or chosen space.  The therapist and you or group meet remotely on a private video platform or via phone. The use  of teletherapy provides the benefit of readily available services to a larger number of people with  the ease of meeting on your schedule. Many therapists providing teletherapy services operate  within nontraditional hours, thus presenting the ability to accommodate almost any schedule. Without the need for an outside office space, fees in some cases, may be reduced due to less  operating expenses for the clinician. Seeking and partaking in therapy can be more successful  within a remote platform versus driving to an office. Healing services are available to those who  otherwise may not be able to seek traditional therapy for a variety of reasons such as lack of transportation. Groups or individuals can meet for support from anywhere at anytime. Additionally, teletherapy can increase the number of people who seek services by reducing stigmas around initially seeking mental health support. Even specialized treatments, such as eye  movement desensitization reprocessing (EMDR) therapy, are proven effective when offered in a  remote setting. 
Is Teletherapy Effective? 
Formalized research investigating the effectiveness of teletherapy began prior to the pandemic  and supports the setting in providing quality care for a variety of mental health conditions (Hilty et al., 2013). Platforms for providing services are HIPPA compliant and confidential to protect patient privacy. The current crisis has led to new learning and acceptance on this effective way 
of delivering mental health services. Greater amounts of people are isolated and experiencing  feelings of loneliness, along with a rise in other mental health concerns such as depression,  anxiety, substance use, and posttraumatic stress disorder (PTSD), due to the pandemic. Studies  examining teletherapy, as compared to face-to-face settings, concluded effective reduction in  symptoms related to PTSD with remote treatment, as one example (Turgoose et al., 2017). A  multitude of treatments are proven effective with use of teletherapy along with offering many other benefits outlined here. Although teletherapy services have increased this is not an unusual method for providing therapy. 
Embracing the Change 
Embrace the global change in the way therapy healing is expanding! Teletherapy will have a  positive impact on the field of mental health and increased accessibility to services. Perhaps  through the surge to provide these services many will understand the vast benefits that exist for  current and future care. Although current events pushed all into this environment, evidence does  support the efficacy of treatment provided in a teletherapy setting. The future of mental health  care will be advanced by providing this robust method of delivering effective treatment and  healing support for more people. The ability to meet with a mental health provider for remote  video and phone therapy services is a gift. Clinicians and patients alike can benefit from this  form of mental health service capability. 
Maggie Lavey holds an MS in Clinical Mental Health Counseling and is in process of a  doctoral degree as a PsyD. with emphasis on Health and Wellness. Maggie is an experienced Associate  Professional Clinical Counselor and trained EMDR therapist providing remote therapy for a variety of  mental health specializations.  
For more on the author Maggie Lavey visit www.counselinganywhere.com 
Referenced Research Articles 
Hilty Donald M., Ferrer Daphne C., Parish Michelle Burke, Johnston Barb, Callahan Edward J., and Yellowlees Peter M. (2013). Telemedicine and e-Health.Jun 2013.444-454.http://doi.org/10.1089/tmj.2013.0075 
Turgoose D, Ashwick R, and Murphy D. (2017). Systematic review of lessons learned from delivering tele-therapy  to veterans with post-traumatic stress disorder. Journal of Telemedicine and Telecare. 2018;24(9):575-585.  doi:10.1177/1357633X17730443